We were excited to help a family stay in the neighborhood they loved by transforming their mid-century modern home – built in 1953 – into a larger, more open and livable space. Through our renovations and additions, we took the home from 1700 sf to 3000 sf; from 2 bedrooms/2 baths, to 4 bedrooms/3 ½ baths. The butterfly roof and painted brick exterior were among the many noticeable features in this transformation.
see us featured in Atlanta Home Improvement (p.52-55)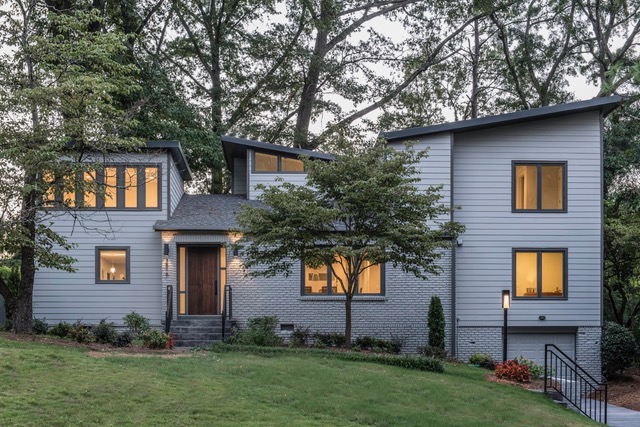 The house had good bones, so we were able to open it up, expand it towards the back, and add a 2nd floor. We designed an open floor plan and brought in as much light as possible with larger windows and new modern lighting. The kitchen is big and bright with gorgeous marble countertops and a waterfall edge.
We used the existing corridor for new floating stairs to the newly added 2nd floor. The clerestory windows brought in light to the stairwell from above, and a few small, unexpected windows gave a peek into the living areas below.
We were able to keep the existing fireplace, and made it dual-sided to continue the flow of the open floor plan. The new hardwood floors and light, bright paint throughout kept the home sleek and refined.
Our design stayed true to the mid-century modern concept, while incorporating current technologies, and respecting the surrounding environment.  The result is now a fresh, clean, and modern home that is also very comfortable and more livable for a growing family.
Photos by Fredrik Brauer